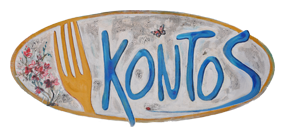 In 1986 Antonis and Maria Salteri began building a little restaurant in Naxos, on the sandy beach of Mikri Vigla for the very few travelers who made their way there, seeking for a peaceful and authentic Aegean beach, away from the industry of massive tourism. Maria was not a professional chef but she was very familiar with the flavors of Greek cuisine and the local specialties that she was taught by her mother at very young age. Antonis was also not familiar with the charcoal grill or how to run a restaurant but their love for the land they were brought up in and their friendly nature seemed enough for the young couple.
Our cuisine in Mikri Vigla
Our beautiful restaurant located at the sandy beach of Mikri Vigla, offers amazing view to the sea. Today, 30 years after the start of the restaurant "Kontos", we continue to offer homemade Aegean and local Naxian specialties made by original traditional recipes using only the finest and freshest ingredients. These high standards of selecting the raw materials and the respect to tradition and quality have established restaurant "Kontos" over the years as one of the finest in Aegean and Greek cuisine.
Our private fields
The private fields of Antonis in Mikri Vigla, where he grows himself all the vegetables needed, and his experience in selecting only the finest products for your menu and appetite are the secrets for the constantly growing reputation of restaurant and taverna in Naxos "Kontos".
Just a few meters behind the restaurant in Mikri Vigla is where you will find our private vineyard where we produce our own wine and "raki", still using traditional methods our grandparents taught us, maintaining the authentic quality and natural flavors of the land over the years.